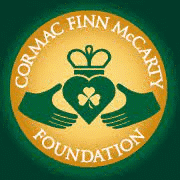 Cormac Finn McCarty Foundation
The Cormac Finn McCarty Foundation is a 501(C)3 non-profit organization dedicated to supporting mental health for local families in Loudoun County who have faced adversity.
FOUNDATION HISTORY
Our non-profit organization began after the tragic death of Paul McCarty in a car accident in 2002. The South Riding community generously supported his family by sponsoring a golf tournament to help raise money for their son's college education.
THE FOUNDATION NOW
In the years since and with the help of the local community, Paul McCarty's family has continued the spirit of the foundation by helping local families who are facing adversity. Over the years, the fundraiser has grown and evolved into casino nights and silent auctions to create scholarships for free mental health services.
Each year we see more families in desperate need of mental health services, but they are unable to pay for them due to lack of income and/or lack of insurance. We believe that mental health services are not a luxury, but a necessity, especially to families in crisis dealing with anxiety, depression, or more severe mental illnesses.
The motto for the Foundation is "Neighbors Helping Neighbors" and the previous recipients of the Foundation are actively involved in paying it forward as well. Local businesses pitch in by donating products and services, which allows CFMF to substantially grow each year. By getting involved in this foundation, you get the unique opportunity to experience the best that people have to offer. Family, friends, neighbors and strangers pull together to do what it takes to offer hope.
To date, the Foundation has raised over $270,000 through our fundraising efforts. We have assisted 16 neighborhood families get back on their feet after experiencing devastating losses.
CONTINUING THE LEGACY
Paul's wife, Susan, has kept the Foundation active with the help of her board of directors for 12 years now. For her, it is more that just raising money for neighbors in need, it's a day that she gets to honor her late husband and expose her son, Finn, to the life lessons that will carry him through a lifetime and for that, she is genuinely grateful.
The grief therapy that Susan received following Paul's death was monumental in her life and inspired a career change into counseling. She is now a Licensed Marriage and Family Therapist and owner of The Wellness Connection – a wellness practice in Stone Ridge, that specializes in overall wellness through integrative and collaborative therapies that treat the whole person - mind, body and spirit.